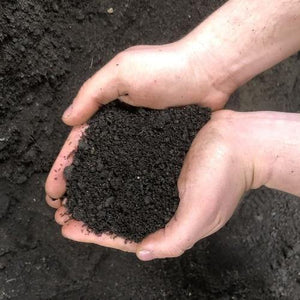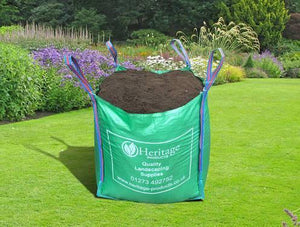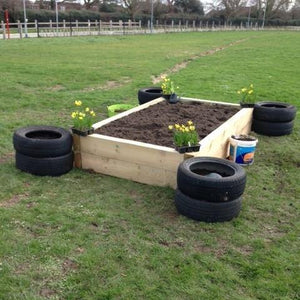 Premium Planting Organic Topsoil Blend - bulk bag
Are you looking to transform your garden into a thriving oasis? Look no further than our Premium Planting Topsoil 100% Peat Free, specially formulated to address the needs of any area in your garden that lacks a high-quality, humus-rich top layer. Whether you're creating new flower borders, vegetable plots, raised beds, or rejuvenating a new build garden with poor soil, our topsoil blend is the ideal choice.
Why choose our Premium Planting Topsoil? 
Unmatched Quality: Our topsoil blend is carefully manufactured and certified to meet the highest standards. We've blended quarried subsoil sand with 40% PAS 100 soil-improving peat free compost, resulting in a nutrient-rich mixture that promotes healthy plant growth. 
Effective Screening: We understand the importance of providing topsoil that is free from debris and contaminants. That's why our blend is meticulously screened to a particle size of 10mm, ensuring a clean and consistent texture. 
Convenient Bulk Bag: Our topsoil blend comes in a 0.75m3 Bulk Bag, providing ample supply for your gardening needs. The bag is conveniently delivered to a minimum of your kerbside using a crane lorry.
Elevate your gardening endeavours with our Premium Planting Topsoil- Bulk Bags. Give your plants the best start possible and watch them flourish. Order today and experience the difference first-hand!
We invite you to explore our blog post dedicated to selecting the perfect topsoil for your gardening endeavours. Click on the following link to access the valuable information: Topsoil - Choosing the perfect blend – Heritage Products (heritage-products.co.uk)
Elevate your gardening game effortlessly with this fantastic offer! Here's how it works:
Start by choosing one of our Compost or Topsoil products.

For every bag of Compost or topsoil you select, you'll automatically receive a generous 25% discount on a bulk bag of our mulches.

Head over to our mulches page, where you can conveniently select a bulk bag of mulch to enjoy the discount.

Finally, proceed to checkout, and watch as the discount is automatically applied.
This is the perfect way to transform your garden into a lush paradise without breaking the bank. Don't miss out on this opportunity – start shopping now and witness your garden's amazing transformation!
Please note: Our products are made from natural materials, which means there might be some slight differences in appearance. The item you receive may not look identical to the pictures on our website, as seasonal changes and variations in sourcing can affect the final result. Rest assured, we do our best to provide accurate representations, but we appreciate your understanding that working with nature brings some delightful surprises along the way.
Benefits and uses
Benefits:
Acts as a slow-release fertiliser, supplying the main nutrients that a plant needs over an extended period of time as opposed to synthetic fertilisers that are realised very quickly and easily washed away.
Helps aid water and nutrient retention due to its porous, spongy nature.
Improves soil aeration.
Improves drainage.
Helps prevent wind and water erosion helping to protect precious topsoil. 
Supports a wide range of soil bacteria, including those that produce natural antibodies to fight against plant disease.
Moderates soil temperature.
Helps to form aggregates by the action of soil microorganisms that release sticky secretions to hold soil particles together.
Supplied in 0.75m3 Bulk Bag.
Uses: 
New Growing Areas: If you're embarking on creating new flower beds, vegetable plots, or raised beds, our topsoil blend is the perfect foundation. It provides the essential nutrients and organic matter needed to establish healthy plant roots and promote robust growth. 
New Build Gardens: Many newly built gardens suffer from poor soil quality. Our topsoil blend is designed to address this issue, revitalizing the soil and creating an optimal environment for your plants to thrive. 
For new lawns, filling holes, grass seeding and levelling we would recommend our Standard Topsoil – which has less organic matter in it.
Technical specifications:
Supplied in a 0.75m3 bulk bag
PAS 100 certified compost used – Organic standard.
Screened to 10mm particle size. The screening process removes any foreign materials as well as larger items such as stones.
BS3882 Certified
Quantity calculator 
How many 0.75m3 bulk bags of Topsoil do I need?
Delivery info
Local Delivery* is included in the price of products.
*For a full list of postcodes that this service covers see here
We will call you to confirm delivery address and arrange a suitable time. Please consider the following when placing an order.
Local Loose Transit Deliveries - 
This mode of delivery is great if access to your house is difficult. This is delivered in our own transit van which due to its size can access most locations. If you require very large amounts please still give us a call as we have the capability to deal with these as well.
Local Crane Lorry Deliveries -
For all local bulk bag deliveries we use 18t crane lorries. If you believe that there may be problems getting a lorry of this size into your property then please give us a call before making a booking.
More information can be found here
For Pallet Delivery Outside Of The Free Local Delivery Area
We use the Pallet Track delivery service for deliveries that are outside of our local free delivery zone. Please see the image below which is used to help in advising if the delivery to your location can be made with the pallet delivery lorries.