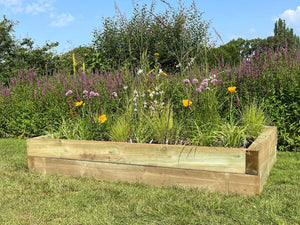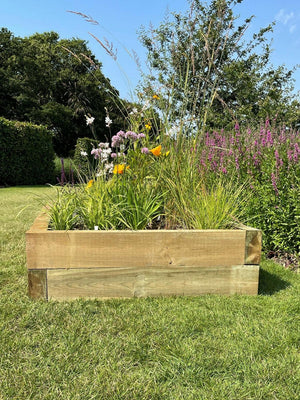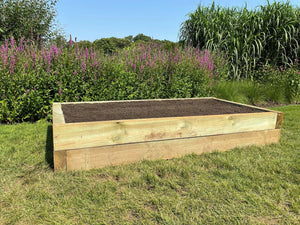 Raised bed kit including Premium Planting Topsoil.
Transform your garden into a flourishing haven with our convenient Raised Bed Sleeper Kit. Designed to provide you with everything you need for easy assembly, this kit is perfect for both experienced gardeners and beginners alike. Simply follow our clear instructions and let your green thumb take charge. (Please note that a drill, spirit level, and PZ2 Pozidrive screwdriver bit are not included). 
Benefits of our Raised Bed Sleeper Kit: 
Improved Drainage: Say goodbye to unsuitable soil conditions. Our raised bed helps improve drainage, ensuring that excess water doesn't accumulate and damage your plants. Create an optimal growing environment for your beloved greenery. 
Extended Growing Season: Experience the joy of gardening for longer. The soil in raised beds tends to warm up faster in the spring, allowing you to start planting earlier and extend your growing season. Enjoy fresh produce and vibrant flowers for an extended period. 
Accessibility: We understand the importance of a garden that suits everyone's needs. Our raised bed eliminates excessive bending and reaching, making it more accessible, especially for individuals with mobility issues. Experience the pleasure of gardening without unnecessary strain on your body. 
Customizable Soil: Tailor-made for your plants. Unlike traditional gardens, raised beds allow you to choose the soil that best suits your specific plant's needs. Create the perfect growing medium, providing your plants with the nutrients they crave.
Experience the joy of gardening with our Raised Bed Sleeper Kit. With its easy assembly and range of benefits, it's the ideal solution for gardeners seeking convenience, accessibility, and improved growing conditions. Start your gardening journey today and create a flourishing paradise right in your backyard.
Click Here to Read Our Blog. Sleepers: Enhance Your Garden with Softwood Railway Sleepers 
Dimensions:
Raised Bed External:
Length 2,500mm
Width: 1,300mm
Height: 400mm
Raised Bed Internal:
Length: 2,300mm
Width: 1,100mm
Height: 400mm
Raised Bed What's Included:
4 x 2400mm by 200mm by 100mm Treated Softwood Sleepers
4 x 1200mm by 200mm by 100mm Treated Softwood Sleepers
16 x Zinc Yellow pozi countersunk single thread 4.0mm by 40mm

4 x Galvanized Angle Plate 30mm x 30mm x 300mm
1 x Premium Planting Topsoil Bulk Bag
1 x Instruction Manual
Raised Bed What's Needed but not Included:

Power drill

PZ2 Pozidrive screwdriver bit
Spirit Level
Our Softwood Railway Sleepers are a highly sought-after choice for various landscaping and construction projects. Unlike traditional creosote-treated sleepers, our sleepers are pressure treated using Tanalith E - Green, ensuring exceptional durability and long-lasting endurance. This treatment method makes them safe for children, pets, and plants, providing you with peace of mind.
These sleepers offer a wide range of applications, making them a versatile option for any project. Whether you're looking to create soil retention structures, raised beds, bridges, decking, furniture, edging, or retaining walls, our Softwood Sleepers are the perfect choice. Their adaptability allows you to explore numerous possibilities for your outdoor spaces.
Despite their robustness, these sleepers are surprisingly easy to handle. Each individual sleeper weighs approximately 30kg, striking a balance between strength and manoeuvrability. This feature ensures that you can effortlessly transport and position the sleepers, making your project more convenient and efficient.
Invest in our Softwood Sleepers today and unlock the potential of your landscaping or construction endeavour. With their pressure-treated durability, environmentally-friendly attributes, and diverse range of applications, these sleepers are a reliable choice for any outdoor project.
Delivery info
Local Delivery* is included in the price of products.
*For a full list of postcodes that this service covers see here
We will call you to confirm delivery address and arrange a suitable time. Please consider the following when placing an order.
Local Loose Transit Deliveries - 
This mode of delivery is great if access to your house is difficult. This is delivered in our own transit van which due to its size can access most locations. If you require very large amounts please still give us a call as we have the capability to deal with these as well.
Local Crane Lorry Deliveries -
For all local bulk bag deliveries we use 18t crane lorries. If you believe that there may be problems getting a lorry of this size into your property then please give us a call before making a booking.
More information can be found here
For Pallet Delivery Outside Of The Free Local Delivery Area
We use the Pallet Track delivery service for deliveries that are outside of our local free delivery zone. Please see the image below which is used to help in advising if the delivery to your location can be made with the pallet delivery lorries.