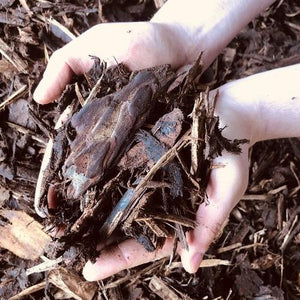 Ornamental bark mulch
Transform your garden into a haven of beauty and functionality with our Ornamental Bark Mulch. This versatile and eco-friendly solution serves a dual purpose, enhancing the aesthetic appeal of your garden while providing numerous benefits for your plants and soil. Crafted from materials sourced within the British Isles, this biodegradable mulch offers sustainability alongside its impressive qualities.

When it comes to functionality, our Ornamental Bark Mulch truly shines. Applying a layer of this mulch to your garden beds and borders creates an efficient moisture retention system, safeguarding your plants during scorching summer months. Acting as a protective shield, it reduces water evaporation and keeps your plants adequately hydrated. Additionally, its natural weed suppressant properties prevent unwanted intruders from infiltrating your garden, minimizing the need for extensive manual weeding. 
Our Ornamental Bark Mulch is available in convenient bulk bags of 0.75m³ (750 litres) and 1m³ (1,000 litres). 
 Key Features and Benefits: 
Versatile Application: Ornamental Bark Mulch is suitable for various garden areas, including mulching around trees, shrubs, and plants in borders and flower beds.
Soil Enhancement: As this mulch naturally decomposes over time, it enriches the soil structure, improving its texture and promoting healthier plant growth.
Moisture Retention: By assisting in retaining moisture, our mulch helps your soil stay adequately hydrated during hot summer months, reducing the need for frequent watering and supporting overall plant health.
Weed Suppression: Forming a protective layer over the soil, Ornamental Bark Mulch effectively suppresses weed growth, minimizing the time and effort spent on combating unwanted vegetation.
Temperature Regulation: Shield your plant roots from extreme temperature fluctuations, providing insulation against freezing cold and scorching heat.
Pest Deterrent: Our Ornamental Bark Mulch naturally deters certain pests, acting as a barrier that keeps unwanted critters away from your precious plants.
Beneficial Soil Organisms: Create a nurturing environment with our mulch, encouraging the growth of beneficial soil organisms such as earthworms. These organisms aid in nutrient cycling and soil aeration, promoting a thriving ecosystem.
Decorative Finish: Achieve a polished and professional look for your garden with the attractive decorative finish provided by our Ornamental Bark Mulch, adding a touch of elegance to your outdoor space.
Sustainable Sourcing: Our mulch is proudly manufactured using materials sourced entirely from the British Isles, ensuring exceptional quality while supporting local industries.
Usage Guidelines: 
Preparation: Ensure that the bed or border is moist and free from weeds. Avoid applying mulch to frozen soil.
Application Depth: Spread Ornamental Bark Mulch evenly to a depth of 5cm (2in) to 7.5cm (3in) across the desired area.
Trees and Shrubs: For individual trees and specimen shrubs, extend the mulch to the radius of the canopy, providing optimal coverage and protection.
Seasonal Timing: Apply the mulch during mid to late spring and autumn when the soil is moist and warm. Avoid applying mulch in winter and early spring when the soil is cold, as well as during summer when the soil tends to be dry.
Choose our Ornamental Bark Mulch for a sustainable, visually appealing, and highly beneficial addition to your garden. Embrace the advantages it offers and savour a flourishing and captivating outdoor space throughout the year.
Please note: Our products are made from natural materials, which means there might be some slight differences in appearance. The item you receive may not look identical to the pictures on our website, as seasonal changes and variations in sourcing can affect the final result. Rest assured, we do our best to provide accurate representations, but we appreciate your understanding that working with nature brings some delightful surprises along the way.


Delivery info
Local Delivery* is included in the price of products.
*For a full list of postcodes that this service covers see here
We will call you to confirm delivery address and arrange a suitable time. Please consider the following when placing an order.
Local Loose Transit Deliveries - 
This mode of delivery is great if access to your house is difficult. This is delivered in our own transit van which due to its size can access most locations. If you require very large amounts please still give us a call as we have the capability to deal with these as well.
Local Crane Lorry Deliveries -
For all local bulk bag deliveries we use 18t crane lorries. If you believe that there may be problems getting a lorry of this size into your property then please give us a call before making a booking.
More information can be found here
For Pallet Delivery Outside Of The Free Local Delivery Area
We use the Pallet Track delivery service for deliveries that are outside of our local free delivery zone. Please see the image below which is used to help in advising if the delivery to your location can be made with the pallet delivery lorries.