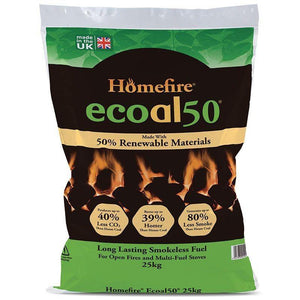 Smokeless coal - Homefire 
Ecoal50
Ecoal50: The Revolutionary Smokeless Coal
Experience the future of sustainable heating with Ecoal50, a ground-breaking smokeless coal crafted from 50% renewable materials. Perfect for burning in smoke-controlled areas, this remarkable fuel comes in hexagonal-shaped briquettes, featuring a distinct stripe on one side. With Ecoal50, you can enjoy a cleaner, more efficient, and environmentally friendly way to heat your home.
Emission Reduction and Enhanced Efficiency
By choosing Ecoal50, you contribute to a cleaner environment. Our product emits less smoke and produces fewer CO2 emissions compared to traditional coal or wood. Moreover, it generates more heat, allowing you to stay warm and cosy while reducing your carbon footprint. Ecoal50 outlasts both coal and wood, ensuring a longer burning time and providing excellent value for your investment.
Renewable Ingredients for Sustainable Energy
At the heart of Ecoal50 lies crushed olive stones, a natural waste product sourced from olive oil production. Unlike traditional fuels that contribute to deforestation, Ecoal50 is created using renewable olive stones, which are replenished annually without the need to chop down trees. This means you can enjoy the warmth and comfort of a fire without compromising the environment.
Convenient Packaging
Each order of Ecoal50 includes 5 x 25kg bags, providing you with an ample supply of this innovative smokeless coal. The hexagonal shape of the briquettes ensures easy handling and stacking, making it convenient to store and use whenever you need it.
Make the switch to Ecoal50 and experience the future of sustainable heating. Join us in reducing our carbon footprint while enjoying the benefits of a cleaner, more efficient, and long-lasting fuel source. Embrace a greener tomorrow with Ecoal50.
Benefits of Ecoal50:
Cost-effective Heating Solution: With its high and sustained heat output, burning Ecoal50 proves to be even more cost-effective than traditional house coal over time. You can enjoy efficient heating while saving money on fuel expenses.
Exceptional Heat: Ecoal50 burns up to 38% hotter than house coal, delivering a powerful and consistent heat output. Say goodbye to chilly nights and embrace the warmth and comfort Ecoal50 provides.
HETAS Approved: Our product is HETAS approved, meeting the highest standards of quality, safety, and efficiency. You can trust Ecoal50 for reliable and dependable performance.
Authorized for Smokeless Zones: Ecoal50 is authorized for use in smoke-controlled areas, making it an ideal choice for urban environments where smoke emissions are regulated. You can enjoy a cosy fire without worrying about violating any regulations.
Versatile Usage: Whether you have an open fire or a multi-fuel stove, Ecoal50 is suitable for both. Its versatility ensures that you can enjoy its benefits regardless of the type of heating appliance you have.
Made in the UK: Ecoal50 is made in the UK, supporting local manufacturing and reducing carbon emissions associated with long-distance transportation.
Environmentally Friendly: Choosing Ecoal50 means choosing a fuel that is kinder to the environment than traditional house coal, without compromising on performance. Its low ash content minimises waste, and its use of renewable materials helps reduce reliance on fossil fuels.
Traditional Fire Qualities: Despite its innovative composition, Ecoal50 retains the traditional fire qualities you love. Experience the crackling flames, radiant heat, and the cosy ambiance of a classic fire with this modern, eco-friendly alternative.
Long-lasting: With Ecoal50, you can enjoy extended burn times compared to coal or wood. Its longevity ensures that you can relax and enjoy the warmth without frequent refuelling.
Delivery info
Local Delivery* is included in the price of products.
*For a full list of postcodes that this service covers see here
We will call you to confirm delivery address and arrange a suitable time. Please consider the following when placing an order.
Local Loose Transit Deliveries - 
This mode of delivery is great if access to your house is difficult. This is delivered in our own transit van which due to its size can access most locations. If you require very large amounts please still give us a call as we have the capability to deal with these as well.
Local Crane Lorry Deliveries -
For all local bulk bag deliveries we use 18t crane lorries. If you believe that there may be problems getting a lorry of this size into your property then please give us a call before making a booking.
More information can be found here
For Pallet Delivery Outside Of The Free Local Delivery Area
We use the Pallet Track delivery service for deliveries that are outside of our local free delivery zone. Please see the image below which is used to help in advising if the delivery to your location can be made with the pallet delivery lorries.