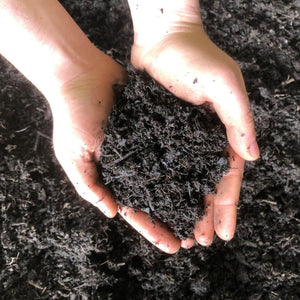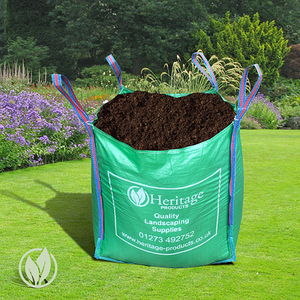 Peat free organic raised bed compost
Our peat-free organic raised bed compost is an excellent choice for enriching your already established raised beds. If you've recently created a new raised bed, we recommend our Premium Planting Topsoil for optimal results.
This carefully formulated compost serves as a natural and nutrient-rich fertilizer for your plants. By incorporating organic matter into the soil, you nourish the soil life, enabling them to break it down into essential nutrients and minerals that promote plant growth. Humus plays a crucial role in providing food for soil organisms. When humus is lacking, plants can suffer from nutrient deficiencies, stunted growth, and increased vulnerability to pests and diseases.
The versatility of this soil improver allows you to use it in various ways throughout your garden. You can choose to dig it into the existing soil, enriching it with the compost's beneficial properties. Alternatively, if you prefer a "No Dig" gardening approach, simply lay the compost on top of the soil, enabling worms to naturally incorporate it over time. This approach aligns with the expanding body of research that emphasizes the advantages of minimizing soil disruption. Keep in mind that these are just two examples of how this product can effectively enhance your garden, showcasing its versatility and wide range of applications.
To ensure consistent quality, our compost creation process adheres to the rigorous PAS 100 certification standards. This involves regular sampling and auditing to maintain the compost's high quality. Throughout the decomposition of green waste into compost, we carefully monitor temperatures to eliminate weeds and sterilize the soil.
With our peat-free organic raised bed compost, you can nurture your plants while embracing sustainable and environmentally friendly gardening practices.
This product is available in bulk bags, offering convenient quantities of either 0.75m3 (750 litres) or 1m3 (1,000 litres) for your gardening needs.
Most up to date nutrient and chemical analysis.
Elevate your gardening game effortlessly with this fantastic offer! Here's how it works:
Start by choosing one of our Compost or Topsoil products.

For every bag of Compost or topsoil you select, you'll automatically receive a generous 25% discount on a bulk bag of our mulches.

Head over to our 

mulches

 page, where you can conveniently select a bulk bag of mulch to enjoy the discount.

Finally, proceed to checkout, and watch as the discount is automatically applied.
This is the perfect way to transform your garden into a lush paradise without breaking the bank. Don't miss out on this opportunity – start shopping now and witness your garden's amazing transformation!
Benefits and uses
Benefits:
Acts as a slow-release fertiliser, gradually supplying the essential nutrients plants require over an extended period, in contrast to synthetic fertilizers that quickly dissolve and can be easily washed away.
Enhances water and nutrient retention due to its porous and spongy nature.
Improves soil aeration, allowing roots to access oxygen more effectively.
Enhances drainage, preventing waterlogging and excess moisture.
Helps protect valuable topsoil by reducing wind and water erosion.
Supports a diverse range of soil bacteria, including those that naturally produce antibodies to combat plant diseases.
Helps moderate soil temperature, creating a more favourable environment for plant growth.
Promotes the formation of soil aggregates through the actions of microorganisms, which release sticky substances to bind soil particles together.
Uses:
Raised Beds:
Ideal for vegetable and flower raised beds, providing optimal growing conditions.
As a general guideline, apply a minimum of 5cm (2in) evenly across the entire bed.
It can be either incorporated into the soil or applied as a top dressing. The weather and activities of worms will aid in its distribution.
Apply after the growing season in autumn or in spring, or both. If applying in spring, aim for 2-3 weeks before planting to allow for adequate integration.
Quantity calculator
How many 1m3 bulk bags of compost do I need?
Delivery info
Local Delivery* is included in the price of products.
*For a full list of postcodes that this service covers see here
We will call you to confirm delivery address and arrange a suitable time. Please consider the following when placing an order.
Local Loose Transit Deliveries - 
This mode of delivery is great if access to your house is difficult. This is delivered in our own transit van which due to its size can access most locations. If you require very large amounts please still give us a call as we have the capability to deal with these as well.
Local Crane Lorry Deliveries -
For all local bulk bag deliveries we use 18t crane lorries. If you believe that there may be problems getting a lorry of this size into your property then please give us a call before making a booking.
More information can be found here
For Pallet Delivery Outside Of The Free Local Delivery Area
We use the Pallet Track delivery service for deliveries that are outside of our local free delivery zone. Please see the image below which is used to help in advising if the delivery to your location can be made with the pallet delivery lorries.