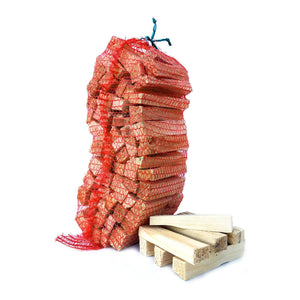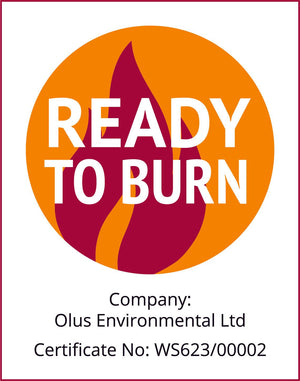 Kiln Dried Kindling - 10 bags
With our carefully crafted kindling bags, fire-building has never been easier. Each bag contains high-quality kindling that guarantees a smooth and hassle-free ignition, making it the ideal choice for starting all your fires. 
Key Features: 
Sustainably Sourced in the UK: We take pride in offering environmentally responsible products. Our kindling is sourced from sustainable forests within the UK, ensuring the preservation of our natural resources.
Kiln Dried: Our kindling undergoes a meticulous kiln drying process, which effectively reduces its moisture content. With less than 20% moisture, our kindling is optimally dried for efficient burning.
Ready to Burn: Say goodbye to the frustration of damp or ineffective kindling. Our product is ready to burn straight out of the bag, guaranteeing a quick and successful fire-starting experience.
Easy to Light and Clean Burning: Our kindling ignites easily, eliminating the need for excessive effort or additional fire-starting aids. It also burns cleanly, producing minimal smoke and residue for a pleasant and hassle-free fire.
Minimal Quantity Required: Only a handful of our kindling sticks are needed to achieve a roaring fire. Each bag contains the perfect amount to get your fire going strong, making it a cost-effective and efficient choice.
Made from Virgin Softwood: We prioritize the quality of our kindling, which is why we exclusively use virgin softwood. You can trust that our product contains no pallet wood, ensuring a consistent and reliable fire-starting experience. 
Upgrade your fire-building routine with our Kiln Dried Kindling. Order your pack of 10 bags today and enjoy the convenience and reliability of our sustainably sourced, ready-to-burn kindling.
Delivery info
Local Delivery* is included in the price of products.
*For a full list of postcodes that this service covers see here
We will call you to confirm delivery address and arrange a suitable time. Please consider the following when placing an order.
Local Loose Transit Deliveries - 
This mode of delivery is great if access to your house is difficult. This is delivered in our own transit van which due to its size can access most locations. If you require very large amounts please still give us a call as we have the capability to deal with these as well.
Local Crane Lorry Deliveries -
For all local bulk bag deliveries we use 18t crane lorries. If you believe that there may be problems getting a lorry of this size into your property then please give us a call before making a booking.
More information can be found here
For Pallet Delivery Outside Of The Free Local Delivery Area
We use the Pallet Track delivery service for deliveries that are outside of our local free delivery zone. Please see the image below which is used to help in advising if the delivery to your location can be made with the pallet delivery lorries.