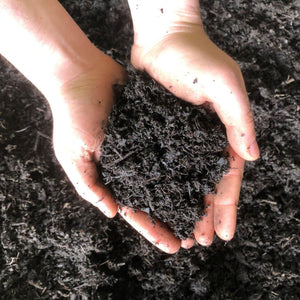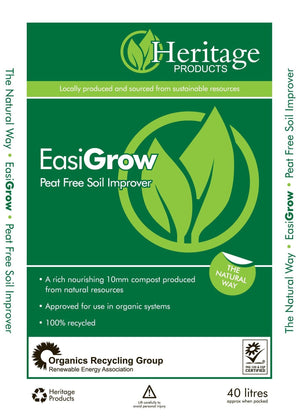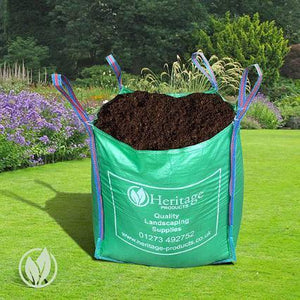 Compost Soil Conditioner Peat Free Compost 
Introducing our premium Compost Soil Conditioner - Peat Free. This environmentally friendly and 100% peat-free organic compost is the ideal solution for gardeners, landscapers, and horticulturalists seeking to enhance or revitalise poor soils. 
We take pride in only using 100% green waste from the Sussex area, contributing to a sustainable circular economy by reusing materials. Our compost is carefully created through a PAS 100 certified process, ensuring consistent quality. Regular sampling and auditing guarantee the production of compost of the highest standard. Throughout the decomposition process, we closely monitor temperatures to eradicate weeds and sterilise the soil.
Elevate your gardening and landscaping endeavours with our peat free Compost Soil Conditioner. Experience the exceptional benefits of this organic compost, nurturing your plants and revitalizing your soil.
Most up to date nutrient and chemical analysis.
This product can be purchased in bulk bags of 0.75m3 (750 litres), 1m3 (1,000 litres) and smaller 40 litre bags.
Elevate your gardening game effortlessly with this fantastic offer! Here's how it works:
Start by choosing one of our Compost or Topsoil products.

For every bag of Compost or topsoil you select, you'll automatically receive a generous 25% discount on a bulk bag of our mulches.

Head over to our mulches page, where you can conveniently select a bulk bag of mulch to enjoy the discount.

Finally, proceed to checkout, and watch as the discount is automatically applied.
This is the perfect way to transform your garden into a lush paradise without breaking the bank. Don't miss out on this opportunity – start shopping now and witness your garden's amazing transformation!
Benefits and uses
Benefits
Acts as a slow-release fertilizer, providing essential nutrients to plants over an extended period, unlike synthetic fertilizers that quickly dissipate and can be washed away.
Enhances water and nutrient retention due to its porous and spongy texture.
Improves soil aeration and drainage, promoting healthier root development.
Guards against wind and water erosion, safeguarding valuable topsoil.
Supports a diverse range of soil bacteria, including those that naturally combat plant diseases.
Helps regulate soil temperature for optimal plant growth.
Promotes the formation of soil aggregates, as soil microorganisms release sticky secretions that bind soil particles together.

 
Uses:

 General soil improvement: 
Apply a minimum of 5cm (2in) of compost across vegetable and flower beds to create an ideal growing environment.
Incorporate the compost by either digging it into the soil or layering it on top. Natural processes, such as weather and worm activity, will further distribute the compost.
Use in autumn or spring, or both, for maximum benefit. Apply 2-3 weeks before planting in the spring.
Roses particularly benefit from the addition of compost.
When planting potted plants or seedlings, include compost in the planting holes for enhanced nutrient availability.
Trees:
Spread compost in a ring around the tree, beginning 60cm (24in) away from the trunk and extending 30cm (12in) beyond the drip line (where the leaf canopy ends).
Rake the compost into the soil or create shallow holes at regular intervals around the tree to incorporate it.
Seedlings:
Create a homemade potting mixture for seeds using our compost. Due to its nutrient-rich nature, use small amounts to avoid overwhelming the seedlings.
Sieve the compost finely and mix it with equal parts sand and topsoil. Instead of topsoil other products can be used such as coir, composted bark, leaf mould or woodchip.
Compost provides resistance to fungal diseases like damping off, making it beneficial for seedlings raised in greenhouses.



Compost Quantity Calculator
How many 1m3 bulk bags of compost do I need?
Delivery info
Local Delivery* is included in the price of products.
*For a full list of postcodes that this service covers see here
We will call you to confirm delivery address and arrange a suitable time. Please consider the following when placing an order.
Local Loose Transit Deliveries - 
This mode of delivery is great if access to your house is difficult. This is delivered in our own transit van which due to its size can access most locations. If you require very large amounts please still give us a call as we have the capability to deal with these as well.
Local Crane Lorry Deliveries -
For all local bulk bag deliveries we use 18t crane lorries. If you believe that there may be problems getting a lorry of this size into your property then please give us a call before making a booking.
More information can be found here
For Pallet Delivery Outside Of The Free Local Delivery Area
We use the Pallet Track delivery service for deliveries that are outside of our local free delivery zone. Please see the image below which is used to help in advising if the delivery to your location can be made with the pallet delivery lorries.